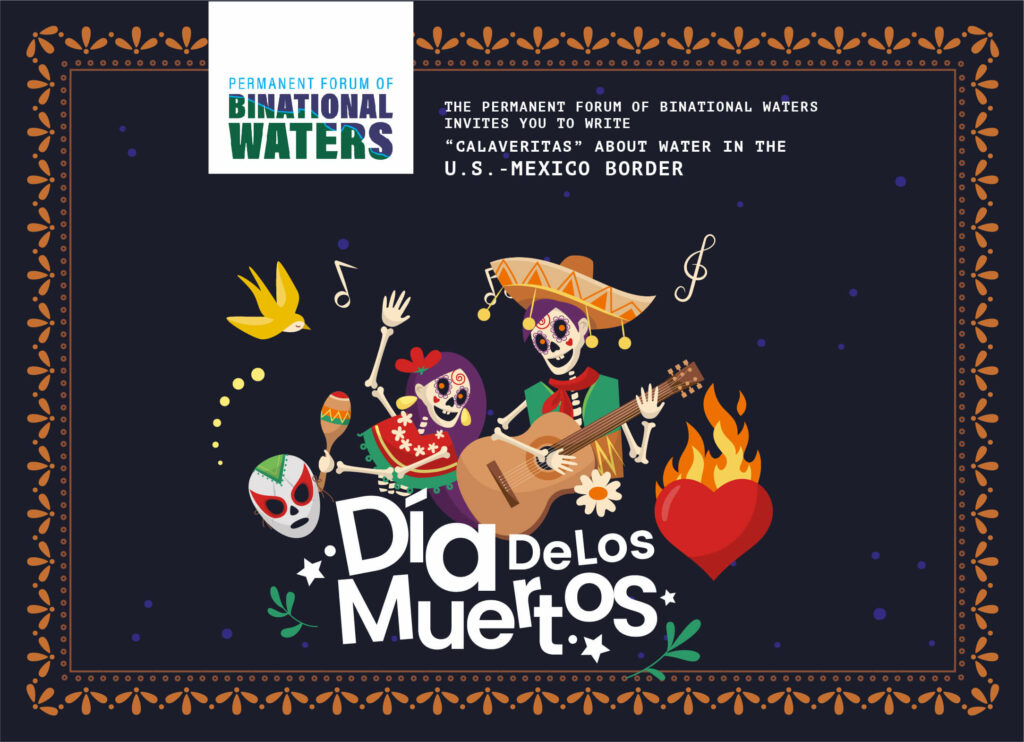 If you're interested in ecology and the shared natural resources between the U.S. and Mexico, we've got the perfect contest for you.
We're thrilled to announce our inaugural Calaveritas Literary Contest, featuring a very special theme: "Shared Waters in the U.S.-Mexico Border."
Why a Calaverita about Shared Waters on the Border?
Water is a crucial resource for all forms of life and holds special significance in the border regions between the U.S. and Mexico.
This contest, organized by the Permanent Forum on Binational Waters, aims not only to celebrate one of the most important festivities of Mexican culture, Día de Muertos, but also to highlight the importance of the water that flows between our countries.
We want to unite the border community in discussing the importance of this resource, its proper management, and how we can preserve it for future generations. Join our efforts from the cultural front as well.
What are the Requirements to Participate?
Your Calaverita must be original and unpublished.
The central theme should be "Shared Waters between the U.S. and Mexico."
The maximum length is 300 words.
Calaveritas can be submitted in both Spanish and English.
Important Dates
Contest Opens: October 7, 2023
Contest Closes: November 1, 2023
Calaveritas Publication: November 2, 2023, Día de Muertos
How to Submit Your Calaverita
Send your Calaverita along with your full name to the email address: [email protected].
We also accept submissions via direct message on our social media channels: Instagram, Facebook, and our account on X, the platform that has replaced Twitter.
All submitted Calaveritas will be published on our website and social media channels on Día de Muertos, November 2, 2023.
Not only will you have the opportunity to showcase your literary talent, but you will also contribute to a crucial conversation about the importance of conserving and efficiently managing water in our region.
We eagerly look forward to reading your Calaveritas and making this Día de Muertos an unforgettable celebration!
"Calaverita" translates to "little skull" in English. In the context of Mexican culture and the Día de Muertos celebration, "Calaveritas" are short, humorous poems that are often used to satirize the living or remember the deceased in a light-hearted way.
"Día de Muertos" translates to "Day of the Dead" in English. It is a traditional Mexican holiday that is also celebrated in various forms in other Latin American countries, as well as among Latino communities in the United States and elsewhere. The holiday is observed on November 1st and 2nd and is dedicated to honoring and remembering loved ones who have passed away.